Motor Control Center (MCC)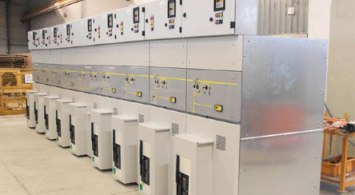 We are one of the best Motor Control Center (MCC) Panels manufacturer in Telangana and Andhra Pradesh. Our Products are highly durable and strong. These are made using quality materials procured from the most trusted vendors.
Motor control centers are simply physical groupings of combination starters into one assembly. Be it DOL ; Star-Delta ; VFD ; Soft Starters. Other devices associated with the motor, such as Audio-Visual indications, LED lamps, Push buttons, All Power and Energy parameter meters etc may also be included.
These usually comprise of incoming ACB/ MCCB/ SFUs, Main horizontal and vertical bus bars, outgoing starter modules with MCCB / Switch Fuse Unit, overload relays, contractors, etc. with adequate space for connection of cable and are easily extendable on either side and have excellent short circuit withstand performance of Bus Bars comprised of bolted / riveted modular construction.
Salient Features
Key features of Motor control centers offered by AGS
PLS based Auto/Remote Start-Stop ; Sequential Start-Stop.
Floor / Pedestal mounted
Fully type tested assemblies as per IEC 61439-1
Rated upto 6300A and 440V
Type tested for 100kA/1 sec, 50kA/3 sec
Tailored control using PLC, VFD, Soft starter etc.
Indoor / Outdoor duty confirming upto IP55 protection class
Ample cabling space for easy connections with Top and bottom cable entry.
Designed for both withdraw able & fixed versions with extendable compartments
Maximum Controllability with umpteen number of Human and Machine protections
Modular system with Customized design to meet end user requirements