Power Control Center (PCC)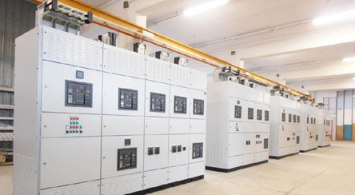 We are one of the best manufacturers and suppliers of power control center(PCC) panels, that are made of quality raw material and are very well-built in construction. These are used in diverse industrial applications and successfully installed in various industries in Telangana and Andhra Pradesh.
Power Control Centres for the Distribution of Power to inside of the Plant. The PCC Panels are available in non draw-out type as well as in draw-out type. The Ratings are from 100 Amps to 6300 Amps. They are manufactured as client's specifications, meeting all the industry Norms and Regulations. These panels are designed keeping reliability Innovation and highest controllability as prime factors.
Salient Features
PCC panels are offered with single, multiple incomers, bus couplers electro/mechanical interlocking.
Over Load, Short Circuit, Earth Fault Protection, fault indications can be provided
Audio / Visual Annunciation upon Failure is an option
PLC Based, Sequential Start/Stop, Interlocking, Remote Control and Monitoring can be provided.
Design flexibility is incorporated to the optimal level
AMF, APFC, Synchronization, MCC etc can be incorporated hybridly into the PCC panel.
Can be designed and fabricated into all shapes and sizes as the site conditions demand.